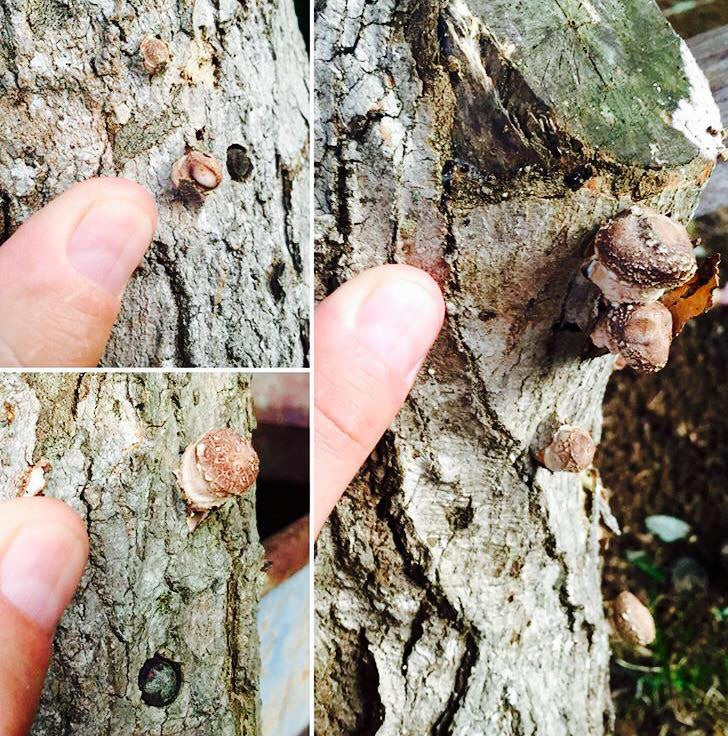 Fresh Shiitake Mushroom Logs - will fruit next year
 Note: most of these are sold locally and are picked up by appointment. However, we now can ship these to the lower 48 states! Expect shipping to cost as much as the log itself...they are heavy. 
Grow your own gourmet mushrooms at home in your back yard!
All you need is a shady spot and some patience. These make a unique and diverse addition to your home garden and landscape. They can be arranged in artistic arrangements. They can be stacked link-n-log style, stood up on end, or just lay it down on the ground. 
What is a mushroom log?
Fungi are one of natures' decomposers. They breakdown materials and some form a visible mushroom as part of this process (fruiting). It takes shiitakes weeks to months to decompose enough material to fruit. We are selling a limited number of 3"-8" diameter locally sourced oak logs that we have inoculated with sawdust spawn. Presently we buy our certified organic spawn from Field and Forrest Products. There is a chart at the bottom to help you compare each strain. When you buy logs from us, we give you the strains we currently have in stock (wide range strains). However if you place an order of 20+ logs you can choose the strain you'd like.
Proven Logs: These are premium logs. These logs have "proven" to fruit. They are young and have had one flush of mushrooms. We have added the value of protecting them from the elements, watering them, and ensuring the shiitake spawn has successfully colonized the log. We sell our proven logs for $30 each. As well, we offer discounts on purchases of 6 or more proven logs. 
Most people order these logs in multiples or they choose to get 6 or more. In getting more logs, you can learn how to force them to fruit in the summer months and have fresh mushrooms every week! Basically, in the summer months you can soak logs for 12-24 hours in a bucket/barrow/pond, take them out the next day and hit them with a sledge hammer. Then in 7 days, you have mushrooms ready to harvest. Each week, you do the same with new logs, letting fruited logs rest for 6+ weeks in between soak & strike...and you have fresh mushrooms every week!
Fresh Logs: You can also buy or pre buy fresh logs. The logs we inoculated this spring are considered "FRESH". These are made in the months of March through May and are available all year unless they sell out. They will need to complete their spawn run at your home for 6 to 18 months before their first fruiting. When you pick them up, we can show you the signs to look for before they will fruit and tell you how to care for them. They require barely any maintenance. Your main concerns will be to keep them in a shady spot and watered to ensure they don't dry out. We suggest you cover your logs with a porous material/cloth like burlap or an old sheet if you are getting fresh logs. (This will allow water to soak into the log, but protect it from birds. We've had birds peck out the spawn, causing them to fail.) They will fruit for 3-5 years, until the mushroom mycelium has consumed all it can from the logs. At which point, you can toss it in your compost pile. Freshly inoculated logs are "unproven" meaning the customer takes on the labor involved to help the spawn spawn colonize the log, and with that, the risk that the spawn may fail to do so. These sell for $25 with discounts on purchases of 6 or more logs. 
Blank Logs: Maybe you want to inoculate logs on your own by buying plugs online. You may want to do this because you can't find a particular type of mushroom for sale in this area or you want to save some money by putting in your own labor. You can buy oak logs from us if we have them available and save yourself the time, labor, and the risks involved with felling a tree. Ask us about these for $7 each. 
How do I order?
Select your quantity, add to cart, repeat with other varieties/products, and check out online. 
We will then contact you to arrange a pick up window. We can either meet you at the farm in person and give you a tour and mini lesson or we can leave your order in a designated location on our farm to be picked up. 
Special Bulk Pricing is available for orders of 6+ logs. We will apply your discount and refund money after you place your order, or if you contact us we'd be happy to put together an invoice. 
Shiitake Growing Guide from Cornell 
The most helpful section for new customers starts on page 23 of this document (spawn run and incubation). Click on the link below and you will find all the information you need to care for your shiitake logs once you take them home from us. 
As you read it, know that all of our logs are oak, we use sawdust spawn with wide range strains. We have also transitioned away from waxing our logs because other studies have shown that waxing helps keep moisture in the log to start, but has been shown to make it harder to keep moisture in the log in the long run. 
https://encrypted-tbn2.gstatic.com/images?q=tbn:ANd9GcSztOEwL8qJC7LhQr-DUswiSMI2mB9fTkleTskG-B_RoFXe4BCQ