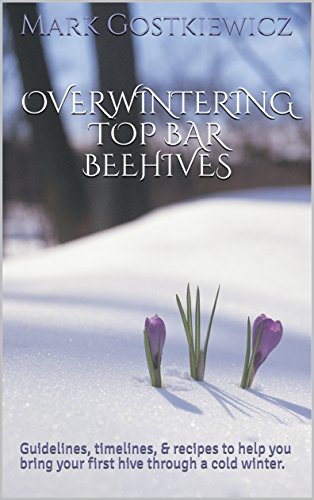 PDF - Overwintering Top Bar Beehives Book
This is for the purchase of a digital copy, a PDF, of my book: "Overwintering Top Bar Beehives: Guidelines, timelines, & recipes to help you bring your first hive through a cold winter."
You may also buy this as an ebook on Amazon.com for the same price. 
Overview
Every new beekeeper should have a mentor. However, it can be hard to find a mentor with top bar hive experience. This book is meant to support those who do not have a mentor, supplement those who do, and be a guide you can have on hand to review. Winter preparation and monitoring is a process that starts months before winter begins. You will not only find helpful timelines to follow, but you'll also find recipes to feed your bees. We outline when and WHY you may choose to feed. We discuss when to inspect and what to do based on those inspections.
The principals of this book can be generalized to fit the needs of conventional hives as well. Although the focus is on top bar hives, this should serve as a primer for any first year beekeeper with any hive type. The recipes, timelines for inspections, what to look for and what the bees need will all be universal among all hive types.
Horizontal top bar hives are not like conventional box hives; so they require a special set of preparations. Feeding and protecting the hive from the elements than other hive types. This contains a helpful list of materials to gather and has descriptions and pictures to show how to prepare and install them. As well, the author explains WHY each component is used so you can make an informed decision to include or forgo parts of the process, dependent on your local winter conditions. For those who tend towards more balanced, bee-centered beekeeping, this book will ring true to your beliefs.
The author keeps bees in USDA zone 6 in Central Connecticut. You should be able to generalize what you learn to fit your local conditions.
Contents
Preface
Contents
Why Use This Book? & What To Expect From This Book
A Collection of Notes to Consider: Before Viewing & Using My Guidelines
Notes On Survival
Notes On Treatments & Genetics Notes On Hive Design
Notes On Sugar
What Happens Inside A Winter Hive?
Population Changes
Pollen Patties: Unnecessary
The Cluster Line Up
The Winter Buffet
The Bees' Roof
Moisture: Not Necessarily A Problem
The Weather
Winter Preparation Guidelines
The Big Day
Inspections & Feeding
Mouse Guards
Insulation
Wind Protection
Ground Anchor
Emergency Feed Preventing Starvation - Restoring Bands Above the Brood
Sugar:Water - Recipes
1:1 Syrup - 1 lb sugar per 1 pint water
2:1 Syrup - 1 lb sugar per 1 cup water
4:1 Hard Candy - 2 lbs sugar per 1 cup water
4:1 Fondant - 2 lbs sugar per 1 cup water
1:0 Dry Sugar
Postscript