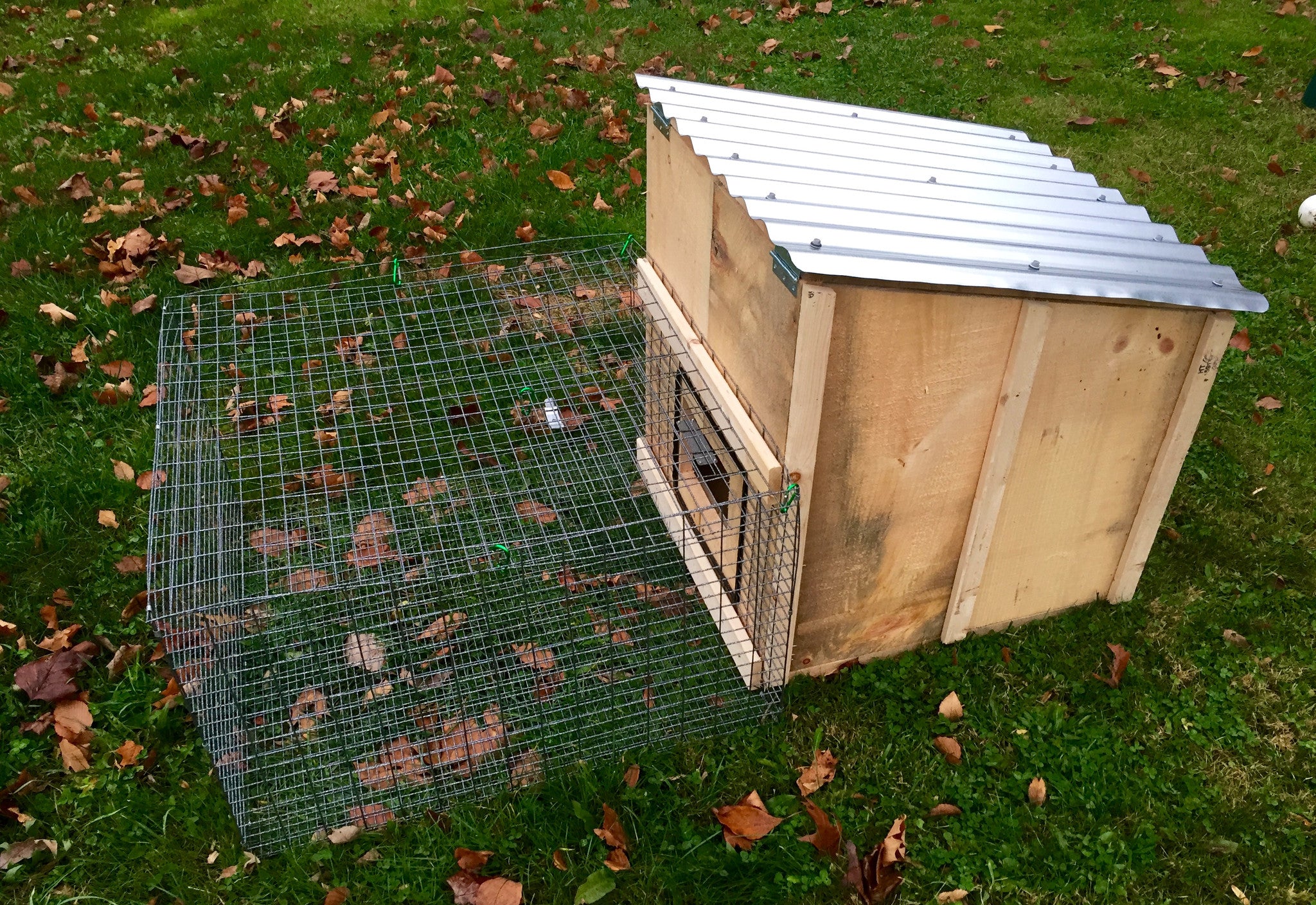 Modular Rabbit Hutch
Give your pet bunny a sturdy home for any season, or start raising meat rabbits on your homestead. Either way, this versatile hutch can be adapted for your needs. The hutch itself is made from 1" locally sourced rough cut pine.
The box's construction offers protection from predators and the elements. The simple carabener & latch is easy to open but can't be opened by raccoons and the thick boards, hefty hinges, and metal roof create a secured home. Joints in the wood are battened to eliminate drafts; making it a dry and cozy home to raise kits. 
I've wrestled rabbits out of their cage before. I've run back and forth as they quickly jump out of my hands into the hutch and back into the run. The doors of the hutch and it's run work together so you can block the rabbit(s) in one side of the cage or another. Both roofs open up so you don't have to worry about the rabbit running out of the cage; instead you can gently scoop your hands under them. The kickstand allows you to prop up the roof and use both of your hands. However, if this is on a stand, you may need to have a step stool to reach in the hutch. 
If you're breading or showing rabbits, these can be used as modules to scale up or down your operation.
These can be used in conjunction with our Pasture Tractor. Keep your breeding stock in the modules and when kits are old enough, move them to pasture on the Pasture Tractor. 
Again, they are made tight to reduce drafts. The entrance hole into the run is also several inches off the ground so kits will not crawl out into the elements too early. You can overwinter your breading stock in a few of these (male in one, females in another, mom and her kits in another, etc. As the kits get bigger, they can move out into a tractor altogether until they are too crowed when they can be harvested, sold, or split into multiple tractors. I can give you a better price if you order 3 or more of these. Just contact me for a quote.
We'd be happy to have you stop by the farm to pick up your hutch. We can also deliver it within CT, MA, or RI for $40. Order several and we'll deliver them all for the same price. 
Here are the different ways you can order your hutch.
Standard - Hutch with standard run attached: This is best if you want to rest the hutch and it's run either on the ground, on blocks, or if you'd like to make your own stand for it.
Custom - Hutch without a run attached: Like above, you can decide how it will rest. However, this option allows you make a bigger run for your rabbit(s). You can save $40 and use that for fencing it in based on your specific needs.
Custom - Hutch & run on a 2' tall PT stand: Keeping your rabbit(s) off the ground can be helpful in the winter snow, and you can collect their valuable manure to use in your home garden.
Custom - Rabbit Tractor - Hutch & run mounted on PT skids: Rotate your rabbit(s) over pasture by picking up the skids and moving them to fresh grass every day or two. You'll use less feed and give your rabbit one of the best homes they could ask for. The pressure treated skids will weather the years. 
Local Delivery is also available for $50 and a rate of $1.75/mile from 06415. 
You can purchase it on our site and then pay delivery charges later. As well we will accept a deposit of half the cost to get started, with full payment upon completion of the coop. Feel free to contact us to arrange a deposit.
It tends to take us between a week to a month to build each order. Winter snows can delay completion until it melts.