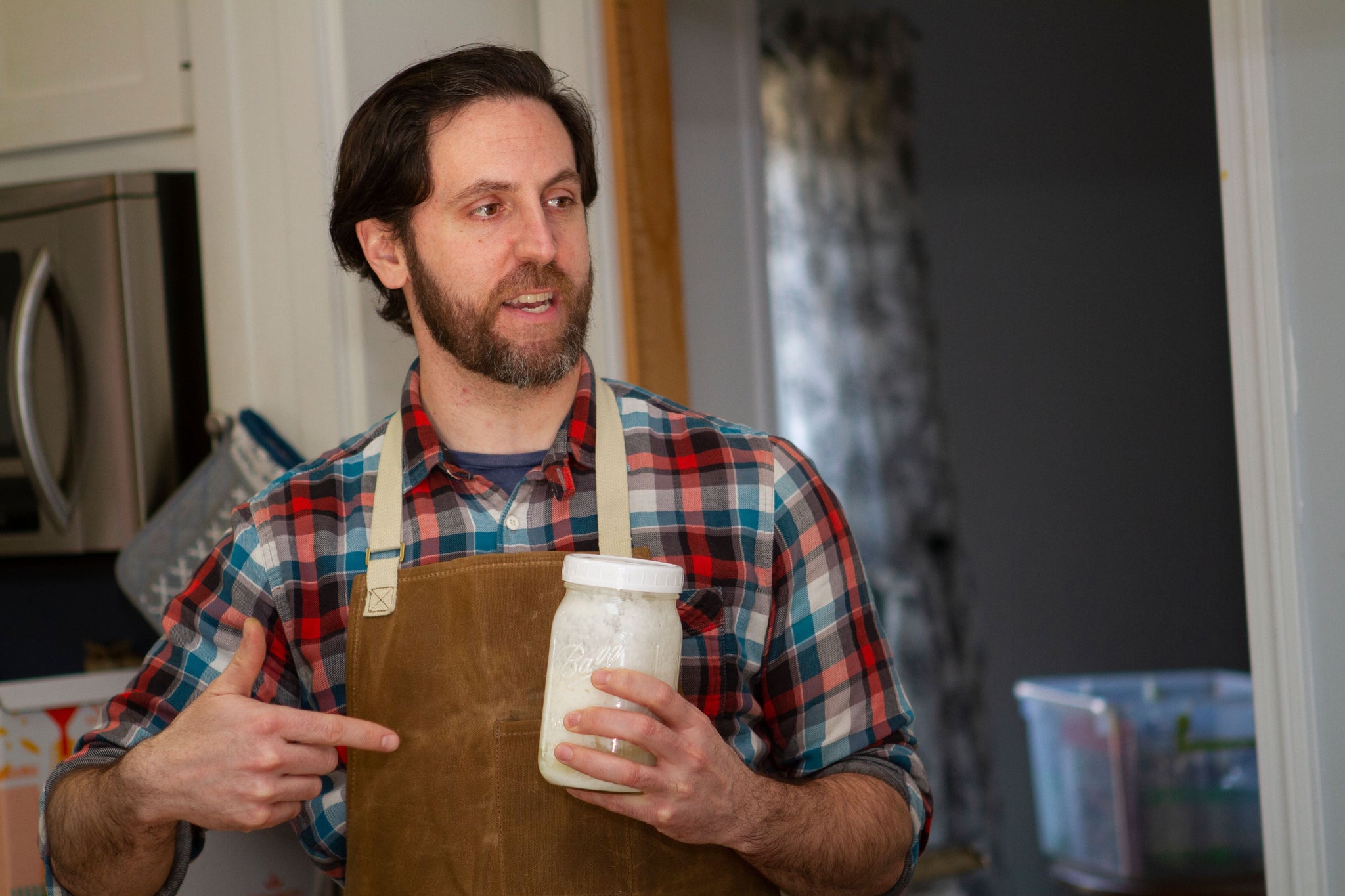 Sourdough 101: From Starter to Loaf in No Time - 90+min
What will I learn in the Workshop?
This class is taught by our good friend, John Woitovich. John is the owner of Cross-Sound Farm in Deep River, CT. His homestead promotes simplicity & wholesome homemade foods. He is a special education teacher who also manages a school garden program called "The Farm @ John Winthrop Middle School". His passion for teaching students healthy living has helped him become a patient and attentive teacher to the adults who take his classes.
After the class, Mark will email you John's contact info along with recipes and instructions/resources to help you with your sourdough success.
The sourdough class is one of our cooking demonstrations. From beginning to end, you see the whole process until there is a loaf of fresh bread coming out of the oven. John, carefully prepares days/nights before the class to have everything ready for you to see the dough in different stages...it's like a cooking show, but live without cuts.
Here's what you'll learn in this class:
How to get a starter culture and keep it alive
How to expand your starter to make more dough
How to slow down and revive a starter when you go on vacation
Best practices for easily incorporating sourdough care and maintenance into your weekly schedule
How to use materials and ingredients to make sourdough and take your baking to the next level
Other ideas of what you can do with your new sourdough skills, such as different breads, pizzas, and more
Because the sourdough starter is alive, John teaches you how to get a starter culture, how to feed it to keep it alive, expand it to get more, and even slow its growth and revive it when you go to vacation and return home. John is efficient with his time so he gives you best practices to easily work this care and maintenance into a weekly schedule.
He then teaches you about the materials and ingredients needed to make sourdough. He helps you see how to use what you have but also points you in the direction of quality products to take your baking to the next level.
Along the way, he not only teaches you how to make sourdough but gives you other ideas of what you can do with this new skill set.
In-Person DATES, TIMES & LOCATION
John is a very busy parent, husband, and educator. We're reworking our schedule to get him here live and hope to have some dates soon...please check back or consider an on-demand class. 

Classes are indoors, in our kitchen, down the hall from our new education space above the garage at 140 Marvin Road, Colchester, CT 06415
Is this class available On-Demand?
YES! This class IS available on-demand! No need to worry if you can't make it to one of our in-person workshops. Our "Mastering Sourdough" class is also available on-demand, so you can learn from our expert teacher, John Woitovich, at your own pace and convenience. With our pre-recorded class, you'll have access to the same comprehensive information and guidance as our in-person attendees. Don't miss out on this delicious opportunity to elevate your baking game. Add this class to your cart today and start your sourdough journey now!
OTHER NOTES ABOUT OUR WORKSHOPS
There are 10-14 seats available for each in-person workshop. 
Payment is required at the time of reservation and seats are limited. Unfortunately, we do not offer refunds but we can offer alternative dates, apply your tuition towards a product, or provide an on-demand recording of the class if it's available On-Demand.