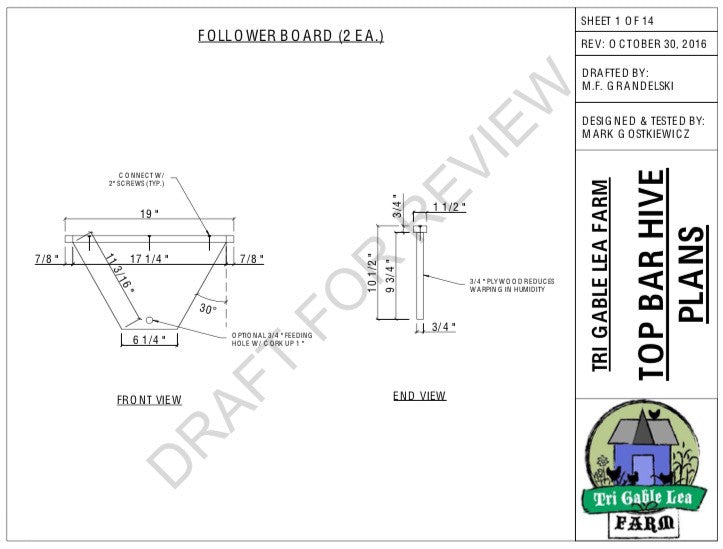 Tri Gable Lea Top Bar Hive Plans and Plans with Supplies
For those who have purchased a set of Top Bar Hive plans, here is a video of me assembling the major components of the hive. This will give you an idea of where all the pieces go. It also gives you an idea of some of the labor involved.
Why buy our plans when there are plenty out there for free? We are building a local community of top bar Beekeepers with interchangeable parts. We have taken the best design elements from plans available, thought of all of the details that keep the bees safe and help the beekeeper manage the hive, and have put them into this design. You are getting a design that is proven and growing in popularity. 
Rough cut lumber is a full 1" thick. Our design is meant for less expensive rough cut lumber. It can also be adjusted down by the builder to off the shelf 3/4" thick big box store lumber. However we recommend hunting down a local saw mill because it supports local suppliers, makes a thicker better insulated hive, and is generally less expensive than the big box stores.
Our 19" top bar design allows you to put these top bars into Langstroth equipment. 
If you and your local beekeeper friends have top bar hives with interchangeable bars of comb, you can help each other. If you're queen dies by accident you can get a bar of eggs from a friend and let your bees raise their own emergency queen. If your neighbor is starting a new hive, you can give them a bar or two of empty comb to help their bees be less likely to abscond. When your bees are going gang busters and can be split or used to create a top bar nuc, you can give the Nuc to your Beekeeping friends. Better yet, you can sell this Nuc to a top bar Beekeeper or even a Langstroth Beekeeper (because your top bars are built from a design that can be used in Langstroth hives). 
Right now our hives are being used by top bar Beekeepers in CT, IL, MA, NY, PA, RI, VA, VT, MO, MI, OR, CA, GA. By using our plans, you can become part of this local community of top bar Beekeepers that are supporting each other. 
Building your own hive allows you to save some money and build as many hives as you need. 
Buying our plans supports our family farm. 
What set of plans should I get?
Top Bar Hive Plans - The plans on their own show you how long to cut each piece and what materials you'll need for success. The notes in the plans show you several ways to build entrances, roofs, observation windows, screened bottoms and more. You have the flexibility to follow the plans and build a custom hive based on your needs. This is best for the builder who is comfortable reading and building from blueprints. 
Plans and Hardware - We give you the nuts, bolts, washers, hinges, metal flashing, chains, and handle to make your standard hive. This way you can reduce the cost for one hive without hunting down these materials and buying more than you need. Sorry, this doesn't include nails/screws.
Plans, Hardware, and Top Bars - Same as above, but this includes 30 assembled top bars with their comb guides, reducing the tedious task of making each bar and saving time. 
Plans, Hardware, Top Bars, and Followers - Same as above, but includes 2 precision-cut follower boards. This is the most crucial piece of the design in creating a square hive with changeable combs. Again it's a real time-saver and eliminates waste. 
Plans, Hardware and Full Set of Woodenware (this is a full hive…go to that section)  - Includes everything above and all of the hive's wooden parts for a standard hive! Basically we build the hive and take it apart to ship flat. This does come with the screws we use.